Top-Rated & Best-Selling CBD Oil Brands
this is a quick table (i am working on a larger version)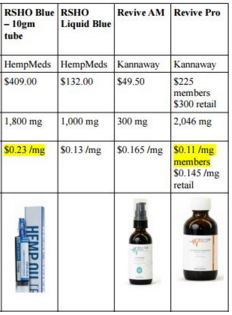 I love RSHO (it is the best quality out there, and approved by the governments of 3 countries for the import and use in health conditions), top quality.  Revive by Kannaway uses the same oil as the one in RSHO (same parent company) but they give you more value for the money by adding the Bibong herbs! Make sure to read why Revive is better than RSHO here. You get more value, and it tastes good which is important as you need to keep this in your mouth for a minute for proper sublingual absorption.
BlueBird Botanicals makes a good CBD product called "Classic Hemp Blend", it is $124.95 for their bottle containing 1000mg CBD. This comes out to $0.125 per mg CBD which is comprable to RSHO and Revive, however theirs has no herbs, only CBD hemp Oil mixed with Hemp Seed oil for those of you who want to get something that has only hemp in it. Want to caution you about the taste, it might be strong and some find it unappealing.
This is a more detailed look at the Kannaway product offerings – click here or the image for the PDF document.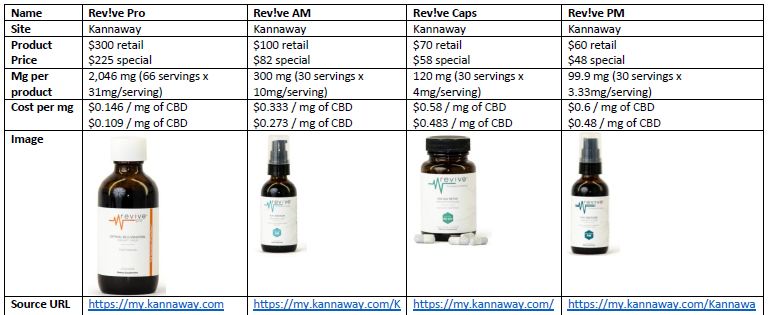 The price information above is accurate as of May 19, 2016
Notes:
The quality of HempMeds' Real Scientific Hemp Oil (RSHO) Blue correlates to Kannaway's Revive Pro.
Real Scientific Hemp Oil (RSHO) By HempMeds is the oil approved and subsidized by the Mexican and Brazilian governments and is prescribed to patients with a multitude of medical conditions! Look at the news category for more, and look at the research category for the health effects of CBD.
These are Medical Marijuana Inc's Companies and brands
Kannaway and HempMed are subsidiaries of  Medical Marijuana Inc .. they use the same CBD oil!    Medical Marijuana Inc is their parent company, and a world leader in the field of CBD oil.
Take a look at Kannaway's Rev!ve line
Revive Pro is really a tremendous value
AND then you have the add value in the Bibong formula, along with the great flavor, vitamin D and triglycerides… Also what is NOT in there (i.e. sorbitols and preservatives!)  The good taste of Revive Pro ensures correct dosing
Read about the Entourage effect  and why Kannaway' CBD is better RSHO
No matter how you slice it, Kannaway comes out on top
Revive Pro is great value for the money
It blows away even the HempMeds especially when you consider it tastes good which helps with keeping people compliant in taking it!     AND it has the herbal Bibong formula!
compared to CBD+, CBD+ has preservatives in it!  and Quicksilver tastes awful,, most the others are in capsule forms (not good, do not swallow CBD, absorb it into the blood via sublingual application, skin or vaping, the intestines are not too efficient at absorbing)
Revive products are taken sublingually, absorbed directly into the blood stream without the need to smoke it. Bypassing the stomach and digestive system for better absorption!
Conclusion
Purchase the Revive Pro  from Kannaway
Tips: Sign up for smart-ship and get it at a discounted price, or join Kannaway as an Ambassador and gain residual income and other financial insentives (join the CBD and Hemp industry, as you advocate and educate.. empower yourself and others)
Once you have tried Kannaway's products (check out the beauty products) and fall in love, you might want to take advantage of the Home Business Opportunity that Kannaway offers you,  not only do you get healthy taking CBD,  but you get to help others, build a team and make a residual income so you can have financial freedom!  with a lot of friendly support from your team and corporate to help you succeed!
The CBD quality, harvesting, extraction, sourcing, and lab-testing are all top of the line hands down. You can read more about these on this page Home Business Opportunity – Scroll down to Part 3, look for "Learn about the CBD used in Kannaway's products".
Related Articles:
---
Images from my research..
Liposomes don't improve the sublingual absorption of CBD..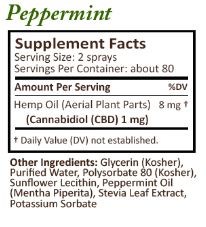 Sorbates are not a favorable ingredient, especially taken internally.
Read also:
Kannaway vs RSHO