A friend of mine thought he found a better deal when he found a popular brand of CBD called +CBD on a very popular website.   However, upon closer examination, I showed him the facts about that product, and that he would actually pay more, for an inferior product!
Here are some of the details for those who are detail oriented:
With this spray, you get 80 servings (1.25 mg each) of premium-quality, all-natural, and extra-strong CBD oil. Simply spray twice on your tongue and get an instant taste of CBD goodness with no hassle and a tasty kick.
Let's Examine This Product:
The CBD:
I do not know where the +CBD CBD oil comes from.  I however know that Kannaway's CBD oil comes from family farms in Austria, from a special high CBD cultivar, grown sustainably, without any chemicals (pesticide-free, herbicide-free, fertilizer-free), non-GMO, and undergoes a 3rd party testing process. It is then manufactured in California.
This +CBD bottle contains 100mg of CBD only, and the sale price is $47. This comes to $0.47 per mg of CBD.  Now consider the Kannaway Revive Pro bottle, boasting a massive 2,046 mg of potent CBD fpr $225 (for loyal customers), this comes to be $0.11 per mg of CBD. Even if you purchase it at retail (no loyal customer pricing) it comes to $0.145 per mg of CBD. A huge difference!    If you wanted a smaller bottle, you can take a look at the Revive AM bottle with 300mg of CBD for $82, this comes to $0.273 per mg of CBD.
+CBD Ingredients:
Copied from the website:
Hemp oil (seed and stalk), Cannabidiol (CBD), stevia extract, kosher vegetable glycerin, water, emulsifier (sorbitan monoleate), lecithin, potassium sorbate, natural flavoring.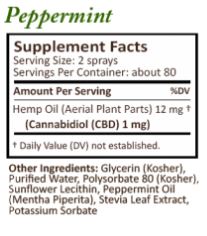 I found this label for the same 100mg per bottle product, the ingredients don't match exactly however, Sorbates remain an issue. It seems the flavor here is from peppermint oil which is good.
You do "not" want the Sorbates in your supplement.  You also should find out where their 'natural flavor' comes from.   Kannaway's ingredients contain "no" preservatives, no sorbates for sure, and their flavors come from actual fruit extracts. Kannaway also has the Bibong formula which is a huge added value and enhances the effects of the CBD massively.
You do not want synthetic chemicals such as sorbates or flavors. Studies have shown Sorbates to be a harmful DNA toxin. Contact me for more details.
The choice is clear.  Better quality,  better reputation,  better ingredients, better pricing. This is why I buy Kannaway!   This is why I affiliate myself with Kannaway and not only enjoy the products but also make a residual income consuming and sharing what I believe in.
Read more: